Tubular Dress
Tubular dress in 1920 had a distinctive rectangular shape from past decade. It was also known as tunic or chemise.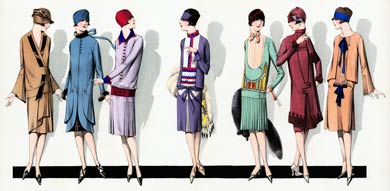 In the past few years the silhouettes of 1920 has been revisited and reintroduced by many designers. Tubular dress has been revived by designers in fall 2008 and even in fall 2010. In 20' s tubular dress was rectangular shapeless dress with flat chest. In 2008 Designers like Rodarte, Reyes, Christian Dior and Reem Acra mordenized this silhouette for their 2008 Fall collection. In this season designers droped the waist of dresses and had beading and fringing look.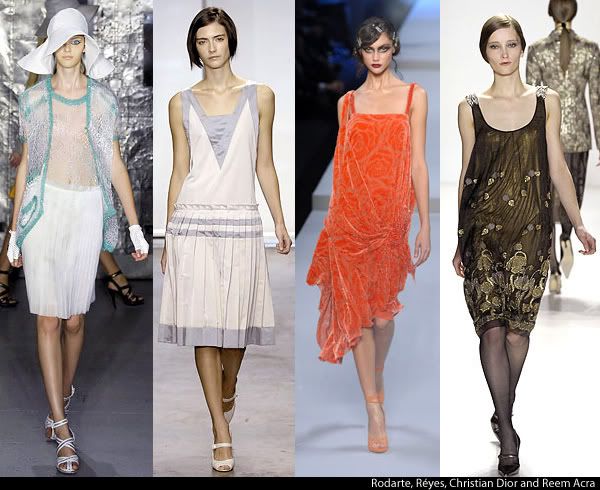 Marc Jacobs presented a collection in 2010 that has the impressions of 20's flapper or tubular dress. The dresses were different from the historical version in terms of fabric, the dress for Fall RTW 2010 collection by Marc Jacobs was made in translucent fabrics. The designer also played with the hem line there were varied hem lines, knee length, mid thigh and ankle length.
Marc Jacobs Marc Jacobs
Marc Jacobs Marc Jacobs
KnickerBockers
The other silhouette of 1920 that was prominent in Fall 2010 RTW Runway was knickerbockers. Knickerbockers began as a sportswear during 20's was knee length pant that was made tight at bottom using a band.
Max Mara's collection for Max Mara brand featured,
cozy coats pinched at the waist by masculine-style belts; jackets and cadet-style cabans; knee-length skirts; uniform shirts; knickerbockers; tapestry knits; new tuxedos offering something for every season. Fall 2010 was about
pragmatic sportswear for working women and Max Mara capitalized this trend by offering Knickerbockers sports wear from 20's. The silhouette is pretty much similar to the past in terms of volume around the leg but there was variety in the length and pleats at the waist in some designs. The other difference it was attached to the blouse in some designs.
Max Mara Max Mara
Max Mara
The other collection in fall 2010 RTW that included this silhouettes was Marc by Marc Jacobs. The designer has beautifully altered the silhouette to fit in current fashion. There was one design in which two different fabrics were used to create excitement and the length was lower calf. The fullness of pleats around the waist was set up to look like peg pants. The high wasted pants really reminds of knickerbockers of past.
Marc by Marc Jacobs Marc by Marc Jacobs
Marc by Marc Jacobs