Street trend is something developed by the true pioneer of fashion, who wear clothes in their own innovative style by customizing and accessorizing them while creating a new style. Fashion trends are often related to runway shows by designers but it's not necessary that trends emerge from the studios of fashion designers trends can also appear from the streets.
Some street trends followed by designers:
Denim has become an indispensible part of fashion and designers often follow the street trends for this segment. The high waist denim shorts remain a summer essential for this year and the foreseeable future. Zac Posen has adapted this high waist shorts for his spring summer 2011ready to wear collection at Z Spoke.
Street fashion from fashionising.com Shorts story, at Z Spoke by Zac posen
Another perspective of the perfect cut for denim shorts seen on streets of Melbourne is similar to the Christophe Decarnin's take on the short shorts for Balmain's spring 2011 RTW.
Street fashion Balmain's spring 2011 RTW
Lapel jackets with skinny pants or denim has been seen on the streets as well as on the runway.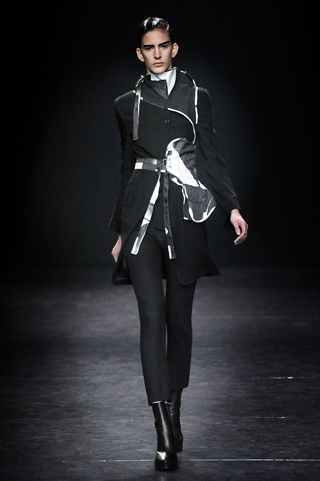 A look by Ann Demeulemeester for spring summer 2011 RTW
Menswear-inspired womenswear
The latest street style look, focused by designers for spring summer 2011 show is ladies wearing dapper ensembles borrowed from the boys.
Menswear-inspired womenswear
Stella
McCartney's Spring 2011 Collection was perfect mix of masculine and feminine styles of dressing. The boyish tailoring along with summery pastels and prints were presented by Stells McCartney at Paris fashion week.
Street Fashion from Stockholm street style
Menswear-inspired womenswear style by Stella
McCartney's for Spring 2011 Collection
The 70′s style
The 70′s style is one of the

latest trend forecast for Spring 2011 runways,

has been noticed by Mod Cloth blog cropping up on many street style blogs like Stockholmstreetstyle. Flowing maxi lengths and bell-bottom or wide leg trousers and platform heels all these classic looks are updated by ladies on the street by keeping the patterns to a minimum and focusing on rich colors and interesting proportions.
Street Fashion from Stockholm street style
Marc Jacobs Spring/Summer 2011

Marc Jacobs Spring/Summer 2011 fashion show complimented this street style and was like a flash-back into the 70's style with exciting color and magical
clothes.
The perfectionist
fashion designer
, Marc Jacobs reinvented fashionable divas from the 1970s elegance adapted to our modern times through colours, fluid shapes or styles.