1. Origami is the traditional Japanese folk art of paper folding, hasadapted many fashion designers to produce fascinating art pieces. Today we can see Japan's influence in all facets of life; cars, games etc and recently its making an evident mark in the world of fashion. Spring 2009 collection by designer André Lima is inspired by origami. This beautiful artistic ensemble can urge anyone to find a piece of paper to fold.
André Lima's creation inspired by origami
2. Alexander McQueen often finds inspiration from art and artists and his resort 2010 was inspired by Jackson Pollock's paintings. The inspiration was evident in the paint splatters on jeans and M.C. Escher optical prints seen above on leggings and dresses in this innovative collection.
Jackson Pollock's paintings.
3. '
Art Nouveau
' an international movement and style of art, architecture and the decorative arts popular in the 20th century inspired many fashion designers. Recently Alexander McQueen and Prada presented the collection based on this art. Below is

woven tunic with a floral crochet top and a waist tie sash is from

Forever 21 which adopts Art Nouveau's intricate design forms .
4. Paying a fashionable tribute to the work of Tord Boontje, Marchesa designer Georgina Chapman designed a laser cut satin strapless gown. The designer has beautifully adaped the cut out designs of Tord into tulle dress with organza flower detail. It's an true example how technology can be combined with elegance.
Tord Boontje

's art peices
5.
A white porcelain vase with a rope design in iron underglaze from the National Museum of Korea inspired Choi Ji-hyung to design this dress for his 2010 collection. This was designed for a

show co-hosted by the museum and the Korea Fashion Association in celebration of the 100th anniversary of the opening of the first museum in Korea.
6. Paintings of one of the famous artist of 20th Century Pablo Picasso have srved as inspiration for many designers. Diane von Furstenberg made the following dress inspired by Picasso's painting.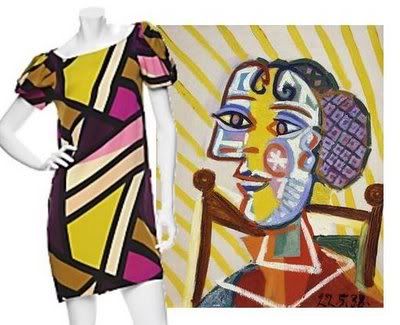 Diane von Furstenberg dress inspired by Picasso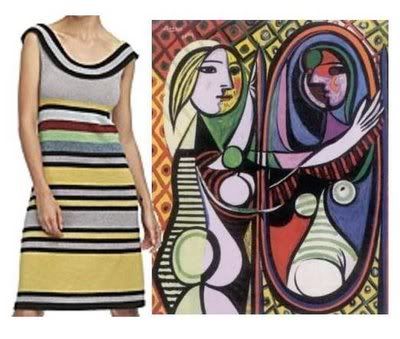 A design by L.A.M.B. inspired by Picasso's painting.